WINNER
This image organically reached the Facebook timeline of more than a million people within 24 hours, making it the most successful post ever on my page Grappig Plaatje. Just goes to show that no matter what happens in the world, you can still win the internet with a good cat picture. – Stijn Dissen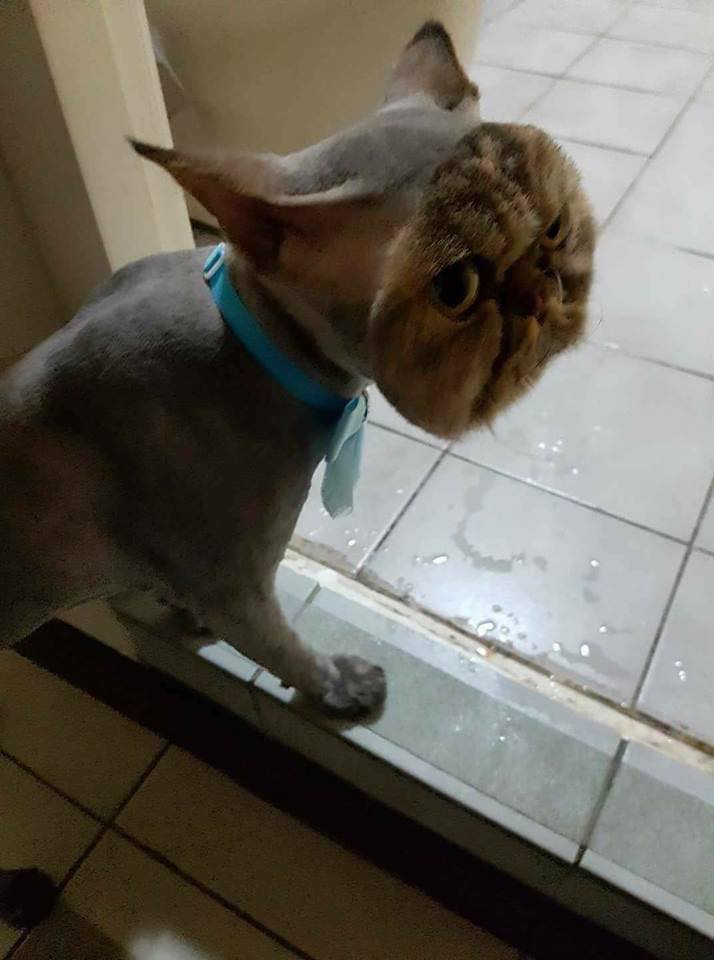 #GARDENSPICER
When news broke that Trump had fired FBI-director James Comey, press secretary Sean Spicer found himself in an awkward position: having to explain the president's actions. So, standing outside the White House, with a handful of journalists waiting to hear from him, what does Spicer do? Probably, to be honest, what we all would do: he "spent several minutes hidden in the bushes" (The Washington Post).
What happened next was awesome. While the late night talk show hosts had their fun with Spicer's bushy adventures (James Cordon, Stephen Colbert, Samantha Bee, Seth Meyers and Jimmy Kimmel), the real amazing stuff came from a geography teacher named Lisa Kadonaga, and happened online. Kadonaga found a headshot of Spicer, blew it up, cut it out, placed it strategically in some local shrubbery and took a picture she shared with her 200 or so Facebook-friends. The top half of Spicer's head went viral, eliciting not only numerous other Spicer-in-shrubs' across the country, but the collective image soon fed into one of our other shrub-related shared images: that of Homer Simpson slowly retreating into the bushes. Thank you internet. – Evelyn Austin
PS. Let's make sure stuff like this can continue to happen, because besides being just entertaining, being able to appropriate, reuse and distribute images like this is of great social, cultural and political importance. PPS. The Comey-firing also gave us CNN-reporter Anderson Cooper's viral eye roll, and Jeffrey Toobin's "This Is Not Normal".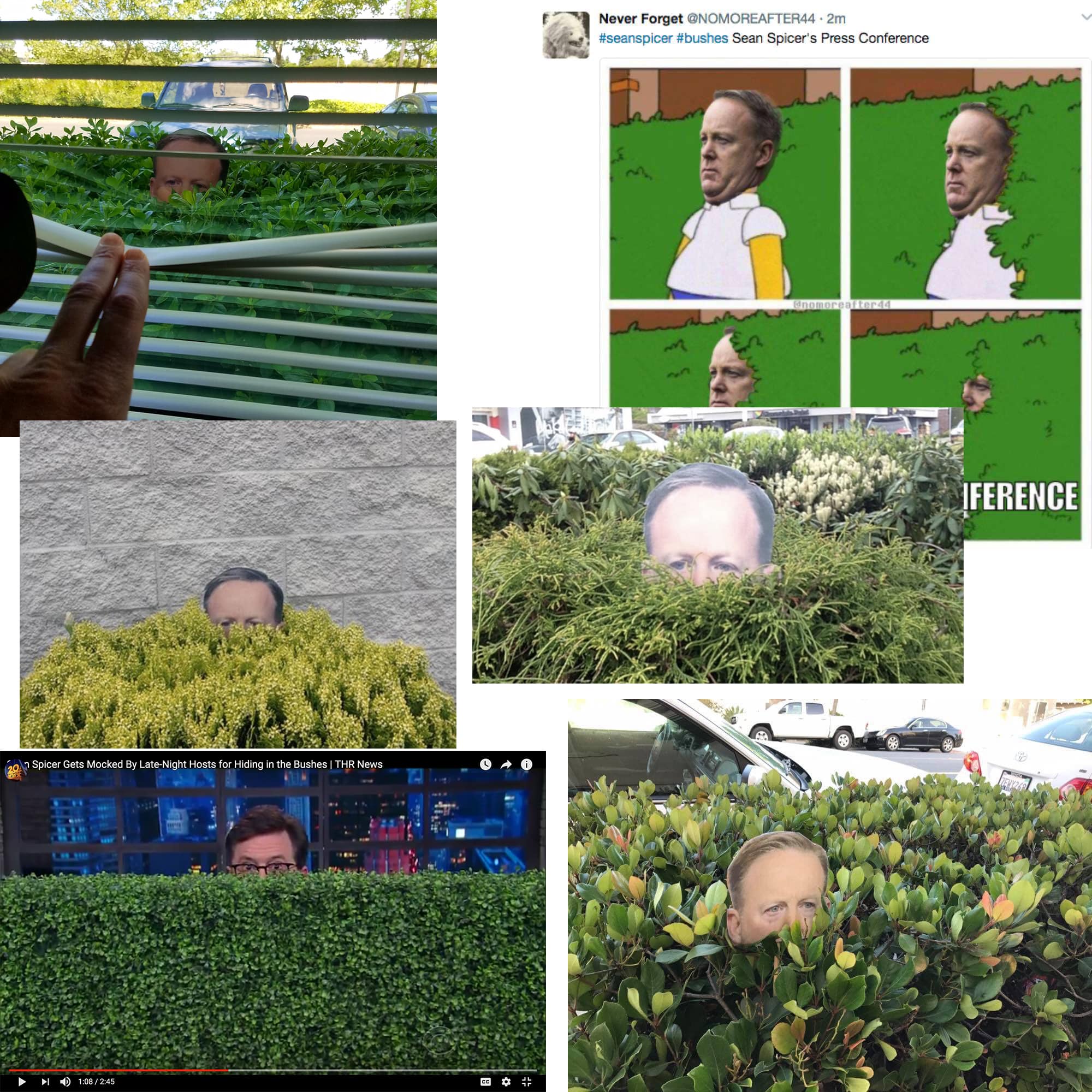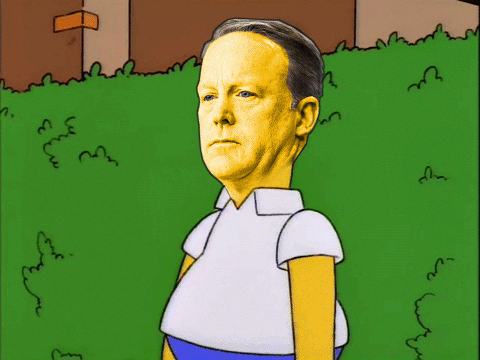 THE BANAL
Let's start with good 'ol Ancient Greece. Which events are deemed significant and worthy enough for aesthetic representation? Epic battles, tragic heroes, gods, etc. Slowly but steadily, however, the sphere of representation widens to include more and more realms of life. At the end of this process stands the banal. For the Greeks, the representation of the banal would signal a most absurd and violent paradox, save perhaps for comedy (but here the banal strictly serves a didactic moral purpose, it is never an end worthy of artistic representation in itself). At the level of the everyday, the leisurely evening hours spent after work in a semi-hibernating state, our lives intersect with those of our dear pets; food taken care of, watching television, our brains function on a pre-reflexive level – this is part of the pleasure of watching television. Is this why the facial expressions and other body gestures of animals are so uncannily apt to depict the petty little dramas of teenagers all over the world? – Daniel de Zeeuw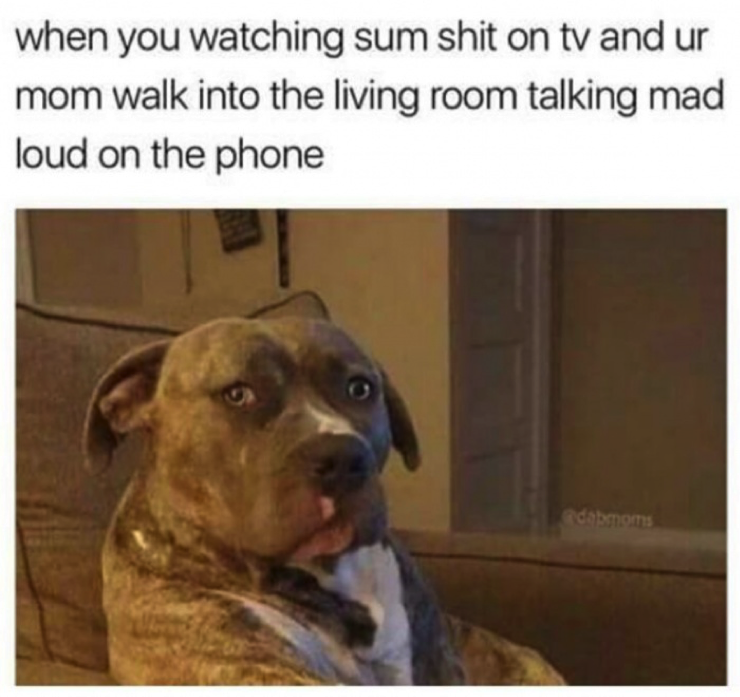 HUMBLE
Sexy women, gold jewelry and bills, bills, bills. Those three items are rarely lacking in contemporary hip hop videos. However, the video for Kendrick Lamar's Humble features something very different. His lyrics are politically loaded and he urges (black) women to stay natural ("I'm so sick and tired of the photoshop"). The video clip is beautifully and fascinatingly shot: it's aesthetic, there are many biblical references and the video explores what you can do with new digital techniques like drones and glitches. – Lilian Stolk