In a small rural town in the south of India, farmers had been provided with good internet connections, allowing them to check weather forecasts and crop prices; cybercafes had been funded to provide a place to search for jobs; and computer kiosks were setup to give women a place to find health information. This is just one example of the ways development agencies have been trying to create new digital networks in order to tackle poverty but, as anthropologist Payal Arora mentions in The Next Billion Users1, those farmers were using the internet for something unsurprising, but unexpected by the agencies, to play games or watch porn. This coupling of pornography and the adoption of new technologies should come as no surprise, as the adult industry has a long history of ushering in media revolutions—from books of erotic engravings to daguerrotypes to VCRs, cable TV, and a myriad of distribution formats on the internet. Deepfakes follow in this trajectory—only a year after they appeared on our internet radar they have grown exponentially and, unsurprisingly, 96% of them are porn. Can the entangled history between porn and emerging technologies give us a glimpse into the future of deepfakes and provide a new lens through which to understand them?
Pornography has almost always been one of the first uses for a new medium, from Stone Age sculpture to computer bulletin boards to deepfakes. So why is porn consistently at the forefront of technological innovation? All the way back in 1994, Nicholson Baker, the author of a novel about phone sex, hinted at the link: "[i]t's hard work adopting a new technology, and we need some sort of compulsion to do it, so I suppose sex serves some purpose there. But we'd do it even if there were no purpose. We're always looking for exotic new ways of doing the same old things." This compulsion is coupled with business competition between tech companies and the fact that porn has much lower resolution standards then other kinds of media2. The most well known example of the influence of porn on technology, and the way it shaped business, is found in the history of the VHS videocassette and the home-video standards war between Sony and JVC in the late 1970s. JVC's VHS format arrived in 1977, two years after Sony's Betamax, but its ability to record a full-length movie (versus the one hour recording limit of Betamax) and the fact that JVC licensed the VHS format to other electronics makers, meant that by 1987 around 90 percent of the VCRs sold in the US were based on the VHS format. The porn industry's role came in when Sony apparently would not allow pornographic content to be put on Betamax tapes, while JVC had no issues with this—generating a large amount of VHS porn videos that people could finally watch, on a wide range of VCRs, in the privacy of their own homes.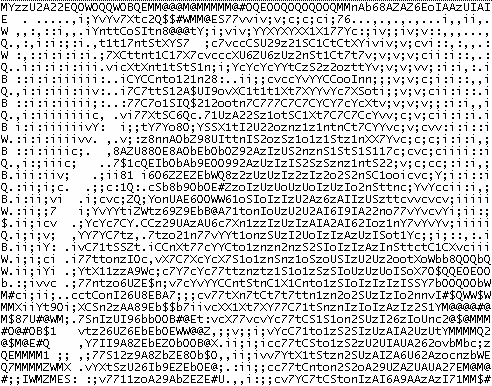 Shifting into the internet era, ASCII porn is credited as being the first form of pornography sent and shared across the internet, due to its quick download speed—unlike images which were excruciatingly slow to download with dial-up connections. This example points to the quick responsiveness of creators of pornographic content to the tools and technologies on hand—reacting to both the limitations and possibilities of the internet. In the mid-90s online electronic payments were already introduced on adult sites, and the industry embraced new innovations like geolocation services and technologies that allowed them to access their user's location in order to direct them to relevant ads and promotions. And perhaps the biggest influence the adult industry has had on the web is the introduction and continued use of peer to peer sharing, like using torrents to share videos, and social networking, starting from the early computer bulletin boards to message boards today.
Not only are most new technologies first embraced by the porn industry, when fantasizing about emerging technologies and how they can be used, porn is often the first form of content. Envisioning a future of virtual reality technology, a New York Times article from 1994 already alludes to the potentiality of the celebrity deepfakes we see today: "many of the people now anonymously typing erotic comments might not want to be able to see one another on their videophones or television screens….But with future virtual-reality technology, they could presumably alter their screen appearance. They could project screen images—of Daniel Day-Lewis, say, or Julia Roberts—that would mimic every move and noise they made in their living rooms."
Dr.Hunt, a professor of history at the University of Pennsylvania has a good explanation why pornography is a genre that's very interested in technological means:
"One of the famous things that goes on in early pornography is to say: Love is not about emotion, love is about sexual desire. It reduces sex to a set of technologies that arouse desire, satisfy desire, create new desires. Pornography is about cataloguing all the variations, treating human bodies as interchangeable parts in machines." This is eerily familiar with deepfake pornography, where bodies might be cut up into parts and reassembled, often without consent.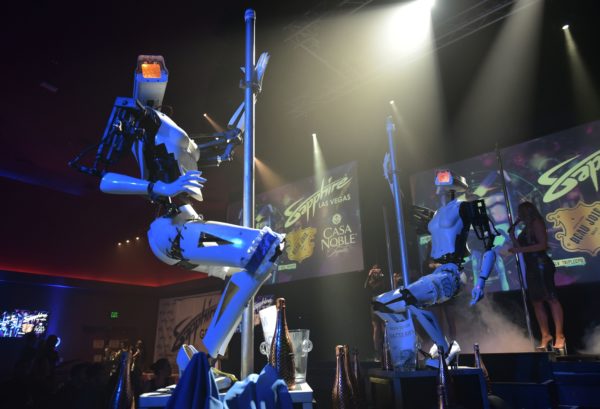 And while there are numerous examples of pornography coupled with tech innovation, this link often gets obscured or erased. Until 2012 the Consumer Electronics Show (CES) in Las Vegas coincided with the AVN Adult Entertainment Expo. While sharing around 40% of the same audience, the two were never linked to each other explicitly. It was only in January of this year that the CES had, for the first time ever, allowed space for sex tech companies, scattering them throughout the 'health and wellness' section of the show. This shift came after last year's controversy, in which the Osé robotic female sex toy (made by the company Lora DiCarlo) was revoked an Innovation Award (in the robotics and drones category) because it was deemed immoral, obscene, and profane. Numerous male-orientated adult products—including sex robots, virtual-reality pornography, and even pole-dancing robots, have been exhibited at CES in the past, pointing to the double-standards around female (controlled) sexuality and the erasure of it from the technological space.
Control over content
There was a sense of community that came with the introduction of the internet into pornography, with early bulletin boards and forums creating a space where users could share user-generated erotica and pornography, while still maintaining anonymity. The rise in home pornography came in the 70s and 80s with the accessibility of the camcorder—erasing the distinction between producers, distributors, and consumers. Continuing this trajectory, in the early 90s pornography could already be transformed into digital formats and shared over the internet. This meant that the general public could participate in generating, sharing, and even sometimes making money from the content.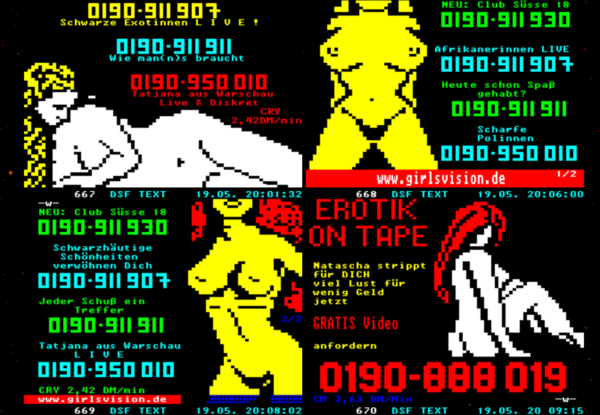 In 1993, around the time that the public started to participate in generating and sharing digital pornographic content, The Joy of CyberSex was published. This book gives a fascinating snapshot of porny CD-ROMs, vague promises of "virtual reality", and adult Bulletin Board Systems (BBSes). It also points to early manipulation and remixing of digital content, with the authors outlining the ways in which you can manipulate and play with CD-ROM videos on your computer as a new level of interactivity—zooming in on the content or pixelating and abstracting it. Control over content is nothing new, as digitization allowed for the user or viewer to select commands that would alter the direction of a pornographic video—"Take Bra Off" or "Suck Finger" or "Touch Self." This control, particularly control over a woman's body, extends to the current proliferation and popularity of cam-girl sites.
Digital interactivity and the altering of pornographic content is also common in porn GIFs. Writer Monica Torres positions the creators of these GIFs into the role of 'prosumers', people who are simultaneously producers and consumers of the content they produce. The porn GIFs are usually taken from porn sites, de-contextualised from their original meaning, and "compress scenes of desire into the seconds that were most personally affecting". This act of creation gives more agency to the users, allowing a certain sense of control over the content being consumed.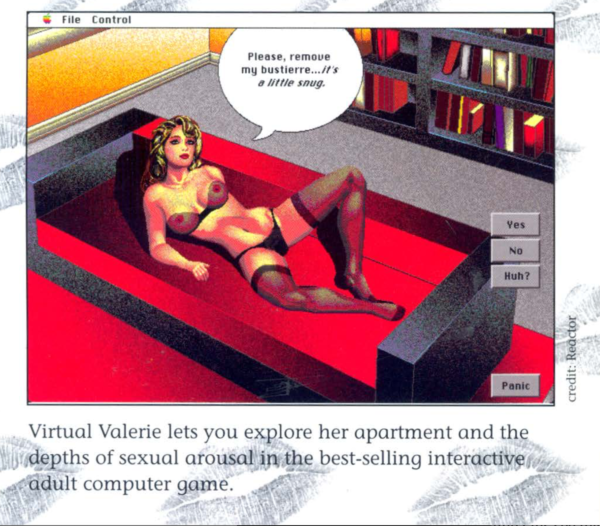 Similar to what we see in the history of the forward march, hand in hand, of pornography and technology, there is "a thriving ecosystem of websites and forums where people share, discuss, and collaborate on pornographic deepfakes". In a 2019 article by Evan Jacoby, in which the author paid $30 to have a deepfake porn clip made of themselves, it was shown that deepfake porn creators were learning tools of the trade through online forums and through examples of deepfake porn videos. This co-creation, collaboration, and community building echoes what was happening in the early days of the internet, but in the realm of deepfake pornography it has taken a turn towards exploitation, invasion of sexual privacy, and harassment. The Deeptrace report found similar trends, with deepfake creation communities and forums acting as the "key driving force behind the increasing accessibility of deepfakes and deepfake creation software."
From the margins to the centre
Many of the qualities of deepfake videos today are accumulated throughout the interwoven history of porn and technology. The control and manipulation of content, the sharing of information over message boards and forums, and the gradual movement from the margins of society towards the centre. The term 'deepfake' itself is connected to pornography—it was coined from the Reddit username of its creator who was photoshopping the faces of female celebrities onto the bodies of porn performers, and posting his creations to a subreddit.
As of 2019, 96 percent of deepfakes circulating online were pornographic, with the majority of them being hosted on dedicated deepfake pornography websites. Despite the fact that the earliest dedicated deepfake pornography website had only been registered in February of 2018, there were already over 134 millions view on the top four dedicated sites. While this was not an exhaustive analysis, it points to the importance of looking at deepfake pornography to see what it can tell us about the digital space in which deepfakes proliferate and what the impact of this really is in relation to the future of deepfakes and their adoption and habituation into our lives.
One worrying trend is that the tools needed to create deepfakes are becoming more sophisticated and widely available. This habituation of the simultaneous use of these technologies and their results shape and alter the digital landscape. Patchen Barss, the author of The Erotic Engine, says that "pornography exerts a disproportionate influence over technologies at the stage when they are new and glitchy and expensive and difficult to use,…They create an initial market that allows them to develop to the point where they're ready for the mainstream." In their research paper "Deep Fakes: A Looming Challenge for Privacy, Democracy, and National Security", Danielle K . Citron and Robert Chesney provide a survey of the potential harms of deepfakes and argue that deepfakes will mitigate far beyond the context of pornography 3. The capacity to generate deepfakes is sure to diffuse rapidly, particularly with the adoption of these technologies for the creation of deepfake pornography.
In an attempt to trace the different stages of the integration of deepfakes into society, journalist Tyler Sonnemaker brings in Shuman Ghosemajumder, former head of global product management for click fraud at Google. Ghosemajumder maps out three stages through which deepfakes will evolve and spread. In the first stage, one person can produce one good piece of fake content. As the machine learning tools to create deepfakes get stronger, we move into the second stage in which one million people are each able to create one convincing deepfake. And the third stage comes when one million people are able to produce one million deepfakes because of the accuracy and efficiency of these tools. Ghosemajumder argues that the most pressing concern is when deepfake technology becomes 'boring', when the quality is so high that we are habituated to its presence and move into a new reality.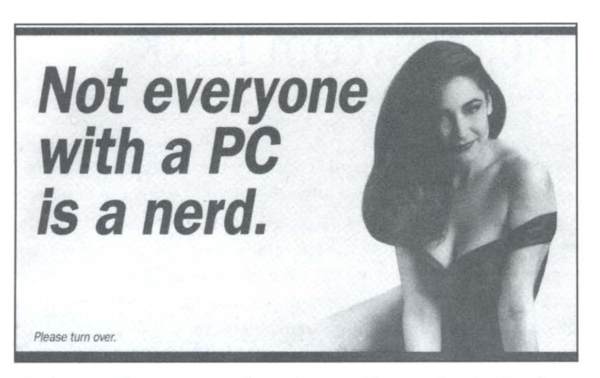 We've already reached the first stage in Ghosemajumder's evolution of deepfakes and we are quickly moving into the second. While the initial influx of deepfake videos, whether pornographic or not, featured celebrities, many individuals are now finding themselves in videos as part of revenge porn, smear campaigns, or intimidation tactics. There are now commercial companies that edit a person's face into a pornographic clip without their consent, using the video clip to run advertising; and deepfake forums where users request pornographic deepfakes of ex-girlfriends or other women they know. Edging closer into the political realm, female journalists and political activists have also been attacked or had their reputations smeared online because of pornographic deepfakes. With every creation of a deepfake we are training AI systems to make ever more convincing deepfakes. And with this growth in the accessibility and ease of use of deepfake generating technologies, it has become increasingly difficult to distinguish the real from the fake. Deepfakes are a problem that technology has created and, through the lens of the history of pornography and technology, we can better understand how this new technology will unfold in the years to come. When looking back at the history of technology and pornography, we see the adoption of these technologies from the edges and the dark corners of the internet into the mainstream. Rather then focusing primarily on political deepfakes, which take up such a small percentage of the online space, we need to set our sights on what is happening in the realm of deepfake pornography. History has shown us that what happens there often maps the way a technology will unfold, embed itself, and become habituated in our societies.