During the research of this dossier, we gained a lot of information about algorithmic and digital colonialism by listening to podcasts. So we decided to put a list together of some of our favourite podcasts for you to listen to:

Facebook goes 2Africa
In this episode of the podcast series 'Your Undivided Attention' presenter Tristan Harris talks to Julie Owono, Executive Director of Internet Without Borders. Through this podcast we learned about the untransparancies around internet shut downs, the risks of tech companies leading us into an age of "digital colonialism," the importance of communities having a seat at the table in their local politics, and what Julie hopes to achieve as a newly appointed member of Facebook's Oversight Board.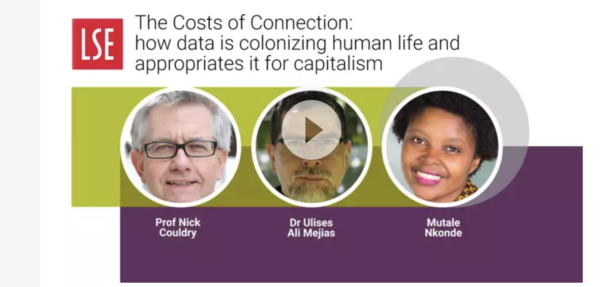 The Costs of Connection
This podcast brought together professors Nick Couldry and Ulises Ali Mejias in conversation with Mutale Nkonde, the founding CEO of AI For the People. We learned that the role of data in society needs to be grasped as not only a development of capitalism, but as the start of a new phase in human history. We also learned that 'data colonialism' is based on the appropriation of human life through data, and that new forms of solidarity are needed to help build new kinds of connections.

Talking Digital Colonialism with Morehshin Allahyari
In this podcast from Hyperallergic, artist Morehshin Allahyari is in conversation with host Hrag Vartanian. Morehshin talks about her performance-lecture Physical Tactics for Digital Colonialism, which builds on her concept of digital colonialism in relation to the technology of 3D printing.

The Horn: Nanjala Nyabola
Best-selling Kenyan author Nanjala Nyabola talks about digital technologies influencing politics. This episode made us realise that the 2016 Facebook-Cambridge Analytica scandal opened our eyes to the power that social media platforms can have on politics, but African countries have been dealing with this situation much longer. Also, we learned that it's much more difficult for African countries to persuade companies like Facebook to take the responsibility for their local digital activities.

PSA Today #23: Kaliya and Seth talk with Jeff Doctor 
Jeff Doctor is Cayuga from Six Nations of the Grand River Territory, and a Strategist at Animikii Indigenous Technology, where his role is to design and develop experiences for Indigenous contexts. In this podcast we learned to think about 'data as the new water' instead of 'data as the new oil', about the sustainability of data and not just its extraction and monetisation, and about Indigenous Data Sovereignty within communities.

Robot Rights? Exploring Algorithmic Colonization with Abeba Birhane
In this podcast PhD researcher Abeba Birhane talks about her great article (a must read!) Algorithmic Colonization of Africa. One thing Birhane is concerned about is that people are hyped up about new technologies, and because of that a critical reflection is missing.