On 27 October 2022 The Hmm, affect lab and MU are organising the Metaverses Cha-Cha-Cha dance party at MU in Eindhoven and online. You'll dance your way into a new reality, where you will look your best on the hybrid dance floor with your own avatar. The developer of this dance floor Babusi Nyoni created the following manual, showing you step-by-step how to create an avatar of yourself!

You only need free and browser-based tools. In order to get the most optimal avatar, wear tight-fitting clothes, in bright colors (not white, not black), as that will make it easier for the AI to read and create the avatar. Let's start!
Step 1: Photo capture
For this first step, a phone camera is just enough. Stand in front of a wall, a door, or any other even colored background and, with the help of a friend, a tripod or your self-timer, take a full-body picture of yourself, see image below. A few things to consider concerning your posture:
Arms a little to the side of your body.
Hold your hands down.
Keep a bit of space between your legs.
Shoot the picture at bellybutton height.
It's also helpful if you have light facing at you and not on your sides or back.

Save 2 or 3 of your full-body pictures as .jpg or .png, and send them to your laptop or working device (through airdrop, email, Google Docs, or any other means).
Step 2: 3D Mesh Generation
When you have your pictures saved in your working device, then go and upload one of them at a time on this 3D Mesh Generator. Drop or upload it in the 'input image' box and then click submit.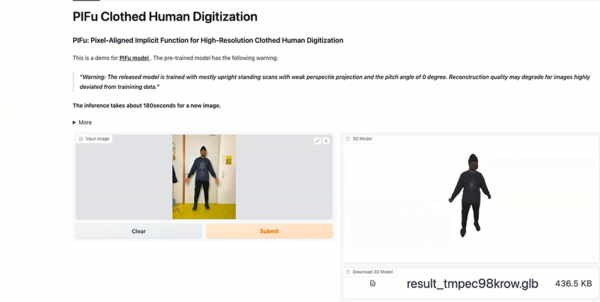 Download your result model. Convert your .glb file to .fbx format using this converter or this converter. Then download that file to your computer.

Step 3: Mesh rigging
Now that you have downloaded your avatar, rig it on Mixamo. Mixamo is a tool from Adobe, it's free to use but you need to create an Adobe account. Fix the model in case it's placed sideways or upside down.

When you're done, press 'next' and place the rig points to the body (on the chin, wrists, elbows, knees, and groin). You can uncheck the symmetry button – below the model, in order to place the points correctly. The points need to be on the body. It will have trouble rigging the body if the points aren't placed correctly.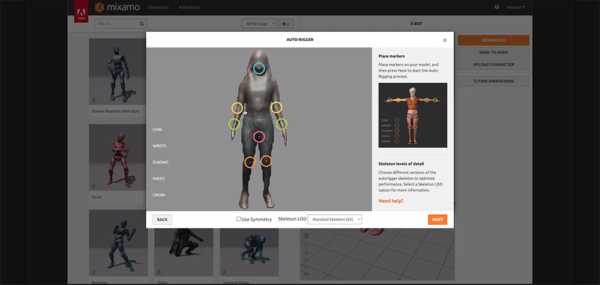 When you're done that you can press 'next' again and experiment with the moves you like from the library. You can then select a final dance or movement which will be your favorite dance step during the dance party on the 27th!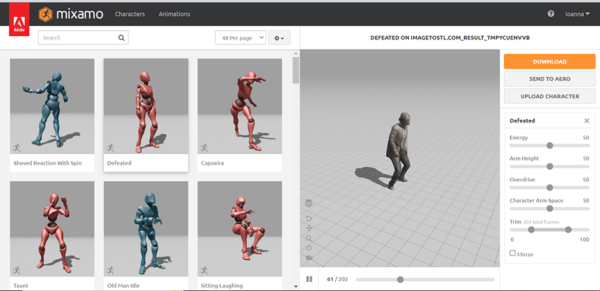 Once you've chosen your favorite movement, go ahead and download your avatar 'with skin' to your computer (like in the picture below).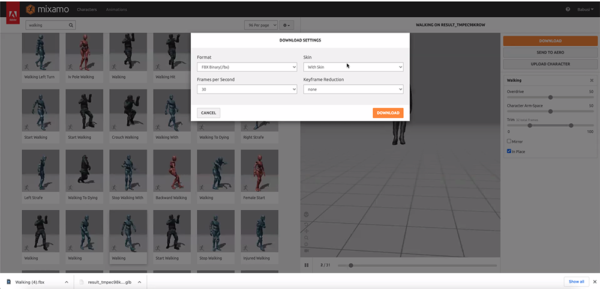 Step 4: Share your avatar with us!
Now comes an administrative part. For the Metaverses Cha-Cha-Cha Dance party on the 27th our developer Babusi Nyoni will create an independent, browser-based dance floor, where onsite and online people can dance together with their avatars. When you're planning to come to the party, reserve a (free) spot via this Eventbrite so we can send you the information you need, and upload your avatar to our drive (read below).
We need the following two things from you:
Upload the .fbx files with skin to our Google Drive folder. Make sure you use your name in the title of the file. Like this: "yourname_withskin.fbx". When you've added your model on Google Drive, Babusi Nyoni will work with your model and prepare it for the party.
Last but not least, fill in this registration form no later than the evening of 26th October! This is important so that we can send you the link with your ready-to-dance avatar in your e-mail address. Then you can join that link to the dance party on 27th.
Now, you are done!
One day before the party, on 26th October, you'll receive all information you need to know. You can physically join the dance floor at MU in Eindhoven, but you can also join from your own place. You'll dance with your phone in your hand or placed on your wrist. The speed of the physical movements you make will affect the speed of your avatar.

Looking forward to seeing you on the 27th! ♪⁽⁽٩( ᐖ )۶⁾⁾
This event is part of the Innovatielabs project Toolkit for the Inbetween.