Yamuna Forzani a queer activist who expresses her vision of a queer utopia through clothing design. With her glitchy knits she plays with traditionally gendered elements to craft a "post gender" world where everyone can wear whatever we want. Yamuna showed us her Internet in June. These are the images she encountered and she'd like to share with you.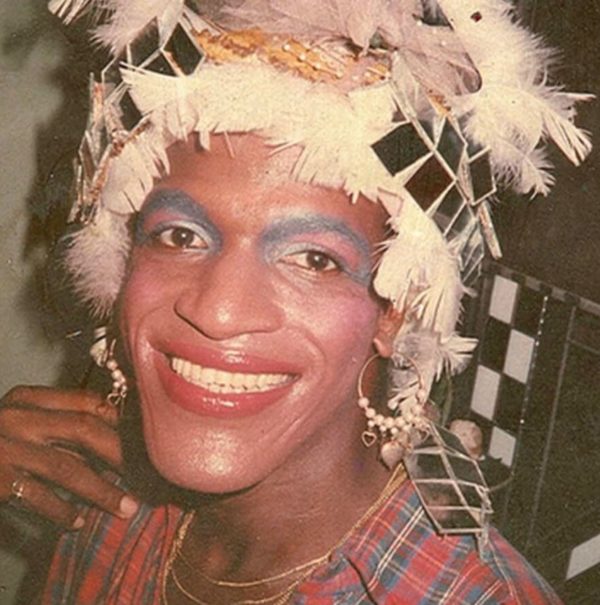 "June is pride month! Let's start with remembering how this all started.
We have to of course talk about the incredible, brave, charismatic, gorgeous femme queen that is Marsha P Johnson. A black trans, bisexual, woman who was a sex worker, who threw a brick at a cop and started a riot. She was an outspoken advocate for gay rights in a time that it was illegal. She was one of the first drag queens in The Stonewall an illegal gay bar in New York in the 1960s. Pride is a celebration but it started as a protest. A protest against injustice and discrimination. Let's remember this!
It's because of people like Marsha who paved the way and fought for our rights and freedom. As a proud bisexual queer woman I am forever grateful for the Marshas of the world. I love you #wontbeerased ?"

"Why aren't we hearing about the #sudanmassacre ?Why is the media silent?
'Please change your profile photo and let the world know what is happening. We cannot be silenced. United we stand, divided we fall. Our strength is our unity' – 25 year old campaigner Ramaz Mahgoub Khalaleyal.
You don't need to be Sudanese or "political" to shed light on the tragedy that is happening in Sudan right now. This is beyond race and beyond political interest. This is about the most basic human rights. Innocent people are being murdered and raped in the most horrifying ways. And there is no media coverage. The internet has been shut off in the WHOLE COUNTRY. Can you even imagine that. They have been silenced. We have to actively look for information on this matter.
We need to raise awareness, and we need to make a point that no matter our own religious or political views – on a human level this is so unbelievably unjust and simply terrifying. If you want to donate there is a link in my bio for the gofundme campaign raising money for medical supplies."
"This cartoon by queer London based artist Alex Norris ( @webcomic_name ) is the most simple, to the point explanation of why we create safe spaces and the common backlash that we receive from cis-het people.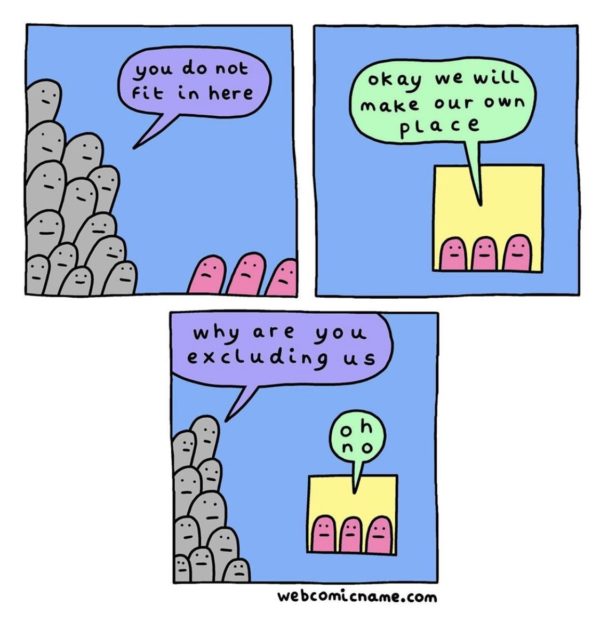 Creating safe spaces is so important. As someone who organises events and club nights focused on prioritising womxn, non binary and trans poc I can really relate to this artwork."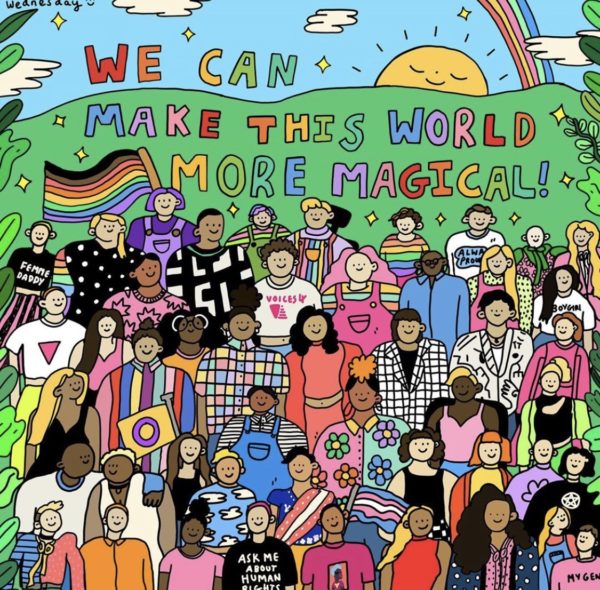 "My last photo is a series of photos by one of my favourite non binary queer artists on Instagram: @hellomynameiswednesday. They make the cutest, uplifting illustrations that depict what it's like to be queer and non binary. Today Wednesday has a short video documentary on the official page of @instagram and I would like to use this opportunity to ask people to go to the @instagram page and pour some love on those comments. It's so sad to see so much harassment and death threats towards this beautiful sunshine unfortunately this is the side effects of visible queer people. Visibility is so important for trans and queer people but with that visibility it makes them more vulnerable to hate speech. That's why it's so important to support queer artists, support your trans friends. The world is a scary place and being kind in the face of this shows great strength. HAPPY PRIDE !"