The Hmm @ Motel Spatie, Arnhem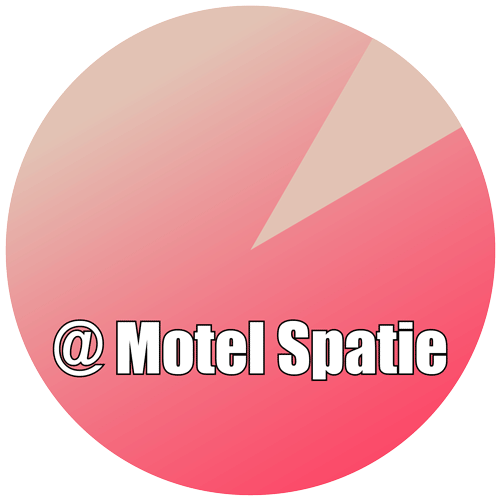 On Friday June 7 we organize our first The Hmm event in Arnhem! Motel Spatie is hosting us and Coralie Vogelaar is helping us put together a refreshing program with 10 great speakers.
Algorithmic Fitness Exhibition
We live in a time where more and more algorithms make decisions for us: what we consume, what we know, or how to go from A to B. For this edition in Arnhem, our guest curator has also organised a special exhibition with her second year students at Graphic Design Arnhem. The exhibition, Algorithmic Fitness, shows methods of critiquing or challenging algorithms—from phone meditations to insecure avatars to GPS drawings. The show opens at 15:00 and from 17:00 several short performances will start. It's also possible to join us for dinner at Motel Spatie!
Speakers
Next speaker
Thomas Bronzwaer
Currently finishing his PhD in astrophysics at Radboud University, Thomas works on understanding the way light behaves near black holes. During the Hmm, he'll be speaking about the research he does for the Event Horizon Telescope, which recently published the world's first image of a black hole. In addition to his research, Thomas is also an entrepreneur and produces electronic music.
Rosalie de Graaf
Rosalie (aka 'RoosArt') is a young artist from Doesburg who started painting at the age of fourteen and learned everything she knows about painting via YouTube. She is now one of the top 5 female street art and graffiti artists in the Netherlands. She'll be talking about street art, vandalism, and the impact of the internet/social media in her work.
Link
Naisyuan Ye
Algorithms decide almost everything we do digitally: what we scroll through, what we watch, what we buy, who we follow. But what are algorithms exactly? And why do we know so little about them? In her 5 minute presentation, graphic design student Naisyuan will explore these questions about the mystery of algorithms.
Andrea Galano Toro & Celine Caly
Andrea and Celine, ArtEZ Graphic Design students, will explore how the self-referential cybernetic algorithm determines how and what we know. Relating to the concept of the free fall, they will talk about falling into the bubble, our intellectual isolation, and the algorithms controlling our virtual search for personalized content.
Tito Valery
Tito Valery is an activist, writer, poet, photographer, public figure, and media personality from Cameroon. Through his work and art, he draws attention to social issues and the inequities and oppressive measures of the Cameroonian Government. In January 2017 there was an internet shutdown for 9 months in the anglophone region of Cameroon, where Tito is from, and this is when the resistance secessionist movement was born. Tito will be talking about how he, along with other prominent media activists, dealt with the internet shutdown and found alternative ways to communicate. Tito is currently an artist in residence at Motel Spatie.
Link
Jane Lee
As a technological creation, Artificial Intelligence has become a mirror for us. Since AI is capable of doing (almost) everything people can do, we're intimidated by its development and it threatens our belief that human beings are unique. At The Hmm, ArtEZ Graphic Design student Jane will explore the question of whether human beings are special or unique, or is the definition of 'human kind' already dead?
Jolie van Wijngaarden
As a self-professed 'online hoarder' and collector of physical and digital treasures, Jolie will share her ever-growing, carefully selected AliExpress wish list with us. Jolie graduated as a Spatial Designer and is currently studying Interaction Design at ArtEZ in Arnhem. She is always searching for alternative perspectives on the things we know in our daily lives.
Link
Eva van Boxtel
Eva is in her final year studying Interaction Design at the ArtEZ Institute of the Arts in Arnhem, focusing mostly on 3D experiences, installations, objects, prints, and audiovisual work. She'll be sharing her research on, and documentation of, pop-up selfie museums and how they influence our behaviour online and in our physical world.
Link
Shiyun Deng
ArtEZ Graphic Design student Shiyun has a fascination for food delivery services. These fast-paced bicycle deliverers, carrying large, square-shaped backpacks, have now become an everyday scene on the streets. But behind this delicious parade, an invisible code runs the show. In her talk, Shiyun will focus on the artefacts spawned by food delivery services and the human labour that serves the insatiable algorithms.
Peter van der West
According to Peter, the internet is getting boring. Peter is a multidisciplinary designer and co-owner of sssssst, the tasteful tasteless design studio. He'll be talking about how it's not just the internet that's getting boring, everything in our lives and society has to be soft to the eyes, ears, and mind and begins to look alike. Why is it that in our polarized world you're allowed to say almost anything online, but provocative art is being removed from festivals because people could get hurt by it?
Link