The Hmm ON Alternative Platforms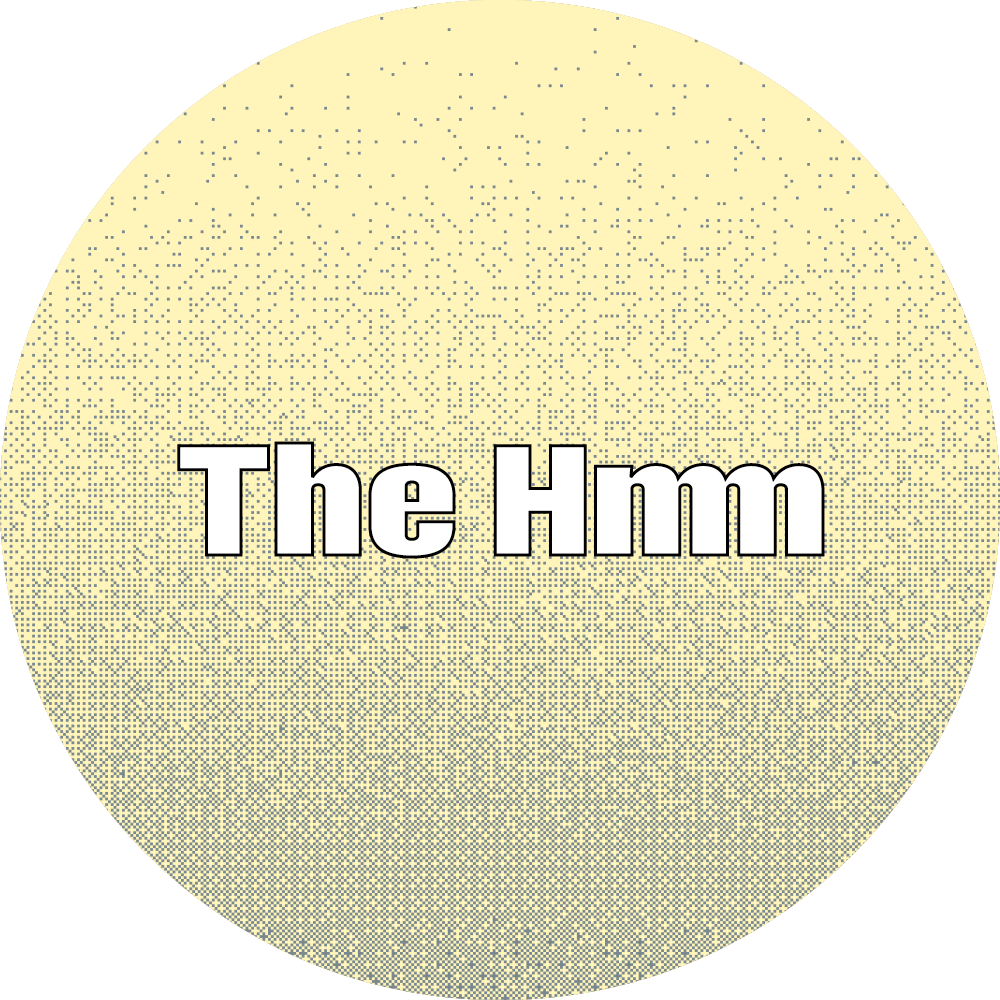 Our internet is broken. In America, CEOs of major technology companies have testified in Congress about their monopoly power. Australia recently "unfriended" Facebook. And in Europe laws that restrict the power of Big Tech are underway. In the meantime, now that we have been extremely online in the past year, we've only increased our use of the free platforms that tech multinationals offer us. But if you're using these platforms not only to announce events, but also to host them, the shortcomings suddenly come to light. When you're hanging out with your friends in the same digital spaces as you're meeting with your colleagues, the context of our social interactions become blurry. Still, in a physical office space you can at least put nice plants or hang some posters on the wall. But to be able to do this online you need knowledge about coding. And on most platforms such changes are not even possible.
☆☆ Special Edition: Tour and Reflection ☆☆
The internet needs to change, but how? During The Hmm ON alternative platforms we explore together whether alternative platforms are the solution to an increasingly broken internet. For this very special edition, we've partnered with PublicSpaces to take you on a virtual tour! We'll visit some friendly alternatives to Big Tech platforms and show different approaches to using existing platforms in creative and atypical ways. Whether it's building your own platform, using an open-source or privacy-secure platform, or hacking an existing platform to use it in your own way; these are all ways to respond and resist Big Tech profiting off our behaviour and our data.
☆☆ Tour Destinations ☆☆
5 speakers will give a short presentation on 5 different platforms, inside the platform itself:
– Artist and teacher Martijn van Boven will give a shell script lecture using Terminal
– Designer and amateur software developer Karl Moubarak will take us into the open-source spreadsheet world of Ethercalc
– Michelle Thorne, a Senior Program Officer at the Mozilla Foundation will guide us through the Museum of the Fossilized Internet inside Mozilla Hubs
– Natasja Straat, Privacy Officer and Functional Manager at EYE Film museum, will show us how she collaborates and shares files in the open-source platform Nextcloud
– Roel Roscam Abbing and Aymeric Mansoux, who help run lurk.org, will take us into Mastodon, an open source decentralized social network
Besides exploring big tech alternatives, the event is also an experiment into new, online presentation formats. If you loved The Hmm IN Quarantine, where we jumped around from one video conferencing platform to another, then you'll love this alternative platforms tour. We're looking forward to jumping together around the internet with you.
☆☆ Reflection ☆☆
The tour will be followed by a conversation with Niels ten Oever and EunJeong Cheon about whether alternative platforms have the potential to fix the internet or whether the very infrastructure and governance of the internet needs to be re-imagined.
☆☆ Practical info for tonight ☆☆
Below you'll find our schedule and some general rules to make the experience run as smoothly as possible. It's a lot of information but please read through it carefully, so you'll know important things like the fact that one presentation is (unfortunately) for Mac-users only. Enjoy the ride!
General rules
➤ We'll begin the evening on our livestream platform (you should have received the link in your ticket confirmation email)
➤ From there we'll jump from one platform to the next. All links will be shared in real-time, as we move from one presentation to the next. You'll get the best (and most fun!) experience if you jump along with us, but you're also welcome to hang out in the livestream platform and watch vicariously from there.
➤ If you (or we) run into trouble, if you're running late, or missed out on the next platform link, come back over to the livestream platform.
➤ You'll be able to ask questions to the speakers in each platform, but if you're watching via the livestream, you'll also be able to ask questions there that we'll pass along.
➤ We recommend using Chrome as your browser, for the smoothest experience.
Schedule
20:00 – 20:10 Introduction on our livestream website
20:10 – 20:20 Talk @ Mastodon
20:20 – 20:23 Switching time
20:23 – 20:33 Talk @ Ethercalc
20:33 – 20:36 Switching time
20:36 – 20:46 Talk @ Mozilla Hubs
20:46 – 20:49 Switching time
20:49 – 20:59 Talk @ Nextcloud
20:59 – 21:02 Switching time
21:02 – 21:14 Talk @ Terminal
21:14 – 21:20 Break + back to our livestream website
21:20 – 21:25 Introduction second part of the event
21:25 – 21:40 Talk by EunJeong Cheon
21:40 – 22:45 Introduction next speaker
22:45 – 22:00 Talk by Niels ten Oever
22:00 – 22:20 Panel discussion
22:20 – 22:25 Wrapping up!
Rules for each platform
Mastodon
➤ You'll get the link to Mastodon via the livestream chat during the introduction of the event.
➤ The presentation consists of 10 posts. You need to refresh the browser to see new posts.
➤ Anyone can take part in the presentation, but you need a Mastodon account to be able to respond to posts and ask questions in the platform itself.
➤ You can ask a question directly in a post and you don't need to wait until the posts are finished to ask questions. Questions need to be tagged with #fediverse and #LURKbirthday, if you want them to show up in the main tiled view.
➤ If you don't have a Mastodon account ​you can also ask a question directly in the livestream, and we'll post it via The Hmm.
Ethercalc
➤ Anyone can take part in the presentation, interact, and ask questions.
➤ We'll communicate important information via the 'status bar' at the top of the Ethercalc page.
Mozilla Hubs
➤ Mozilla Hubs uses a lot of computer memory! If your computer is not the strongest or newest (or if you love using an old browser) think about joining us via the livestream instead.
➤ You can join the presentation in two ways:
– Join as a spectator by clicking 'spectate' when you enter (don't need to make an avatar) or
– Join as a visitor (by clicking 'join room') and create an avatar for yourself. For first time users, we recommend using an existing avatar.
➤ For the best performance, Mozilla Hubs allows a maximum of 25 people in a room. The rest of the visitors can watch in the Mozilla Hubs lobby and interact via the chat.
➤ Please mute your mic during the presentation. You can ask questions via the chat or by unmuting yourself and speaking. ​If you have an orientation or tech question, please ask via the chat. If you have a content question, please ask by unmuting yourself.
Nextcloud
➤ Anyone can take part in the presentation, interact, and ask questions.
Terminal
➤ This presentation is a shell script lecture and it's only possible for Mac users. Sorry about that! Non-Mac users can watch via the livestream.
➤ For this presentation, you'll be asked to download a small application, which will be shared with you during the Nextcloud presentation.
➤ It's important to have Chrome installed as one of your browsers for the presentation to work correctly.
➤ Please be aware: maybe you have some additional security settings enabled which might prevent the shell script lecture from running certain parts of the script.
➤ And remember, let the script lecture run on its own, and be patient with it 🙂
Join us at 8pm CEST. You'll receive the streaming link and all the details after registering for the event.
The Hmm ON …
We're using face filters to make ourselves prettier, track our daily steps on our iPhones, and rely on Google Maps to find our destination. But what exactly is the impact of these technologies? With The Hmm ON …, we reflect on these playful, serious, and sometimes disturbing developments in internet culture.
The series is kindly supported by the Creative Industries Fund and the Amsterdam Fund for the Arts.
PublicSpaces is a coalition of public organizations that strives to reclaim a place on the internet where the public domain can develop in freedom, security and without surveillance.